When I see "Internet of Things" (IoT) and "Smart Home", I see Amazon's Echo, Google Home, Philips Hue, and smart plugs.
IoT and Smart Home had been THE buzzwords for quite some time now.
I never quite get around why any of these are needed.
I always find these functions are built for lazy people.
WiFi Smart Plug – the solution to my challenge
That was true until Sophie (more entries on Sophie the Golden Dox to follow) joined our family.
Sophie, our 13 month old beautiful Golden Dox (Dachshund cross Golden Retriever), pretty much inspired my first foray into smart technology.
Like most young married couple in Singapore, my wife and I are out working during the weekdays and only back home near dark / after dark, in the evening/night.
And like all pawrents, we were kinda worried about whether Sophie will be afraid of the dark and so decided to install a light source for her in her yard.
We started with a night light, you know, the kind that lights up automatically when the ambiance gets dark?
But found the emitted light to be kinda on the weaker side and doesn't really help light up her yard.
That was when I start entertaining the idea of a smart plug – where I can power the light source on and off via WIFI, remotely even when I am out of home.
Which WiFi Smart Plug to choose?
I didn't scour the world wide web this time around (ok I did research on Amazon and Lazada) and decided to hop into the Challenger store in the neighbourhood and found a few WiFi smart plug options available:
I didn't give the TP-Link and D-Link too much of consideration simply because the Xiaomi Mi variant cost about 4 to 5 times less.
Not entirely sure if a smart plug is really the solution, the Xiaomi Mi Smart Plug can cut my losses if I ever decided that smart plugs are not my thing.
Furthermore, I didn't need the smart plug urgently and could afford to wait for it to be shipped from China to Singapore.
An in-depth look on the Xiaomi Mi Smart Plug
The Xiaomi Mi Smart Plug took about a week to ship from China to Singapore.
It did arrive in pretty good shape and in a pretty little white box.
However, Sophie managed to get her paws on the package before me and decided to have some fun on her own before handing it over to me.
The plug certainly looks very tastefully designed and should be able to fit into most modern homes and not look out of place.
The Pros
3C-certified
Overload protection
High temperature resistant – 750 degree high temperature fire-resistant material
90V to 220V, up to 10A
LED indicator
Cheap!
Works as advertised
The Cons
The cons are pretty obvious – the Xiaomi Mi Smart Plug doesn't accept UK plugs.
Based on the image above, you should also be able to tell by now that the other cons is that it doesn't go into a UK socket either.
In order to use this plug, you will need an adapter.
And to me, these are probably the only cons.
See? It still looks pretty good with the adapter, doesn't it? 🙂
Update: 20 Jul 2019
There are 2 different versions of the Xiaomi Mi Smart Plug, a wifi version, and a ZigBee version. Currently, the China server supports all versions but the Singapore server only supports the ZigBee version.
Mine is the wifi version and it's working fine! I also got the ZigBee version and will post an entry on that later! Stay tuned!
Update: 26 Jul 2020
The version that I reviewed is ZNCZ02CM, otherwise known as "Mi Plug Mini", works flawlessly with Google Assistant.
I bought another Xiaomi Mi Smart Plug recently and it does not work with Google Assistant.
The current version that is available for sale on Aliexpress and Taobao, is ZNCZ04CM, aka "Mi Smart Plug (Wi-fi) Basic" and it does not work with Google Assistant.
I will be doing a post on why this is a deal breaker for me and a potential alternative that I found, stay tune!
Setting up the Xiaomi Mi Smart Plug
Installation of the Xiaomi Mi Smart Plug is EASY (as long as you follow the right steps).
Download the MiHome app from Google Playstore (i use an Android and go to the doctor's quite often) [app is available for iOS too].
Open the Mihome app.
First thing first, go to "Profile" on the bottom right, scroll down all the way to "Settings", scroll down all the way again and select "Mainland China" as region, this will ease the installation process a whole lot.
Press the button on the plug once and go to your "Wi-Fi" setting and connect to the Mi Plug's WiFi network when the LED light starts flashing.

Once connected, go back to the MiHome app, go to "Mi Home" and "+ Add device"
Once you click on "+ Add device" then "Scan", the app should detect the Mi Plug and then it is just a matter of clicking on the device and finish the installation.
Installation is completed (a solid LED light indicate successful installation)!
Used individually, the Xiaomi Mi Smart Plug has 3 options: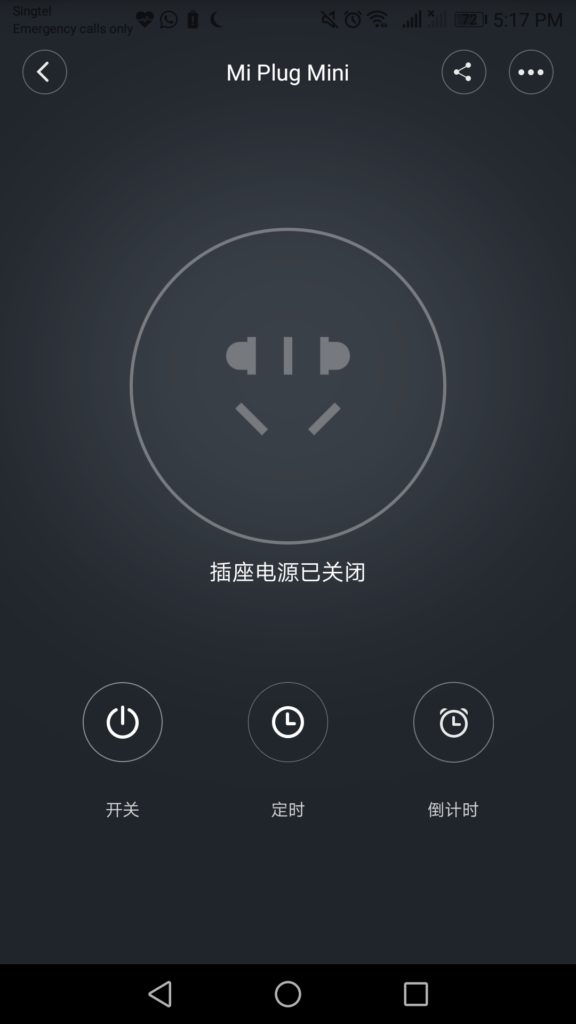 The big button in the middle? Press on it to toggle on and off, same as the button in the lower left.
The middle button is to set schedules.
The last button for timer/countdowns.
The Xiaomi Mi Smart Plug in action
I must say I am really satisfied with the Xiaomi Mi Smart Plug + Ikea light combination.
No more "oh shit, I forget to on the light" after I leave for work in the morning.
And Sophie has a light source to protect her from total darkness (and allow me to monitor her remotely in colours instead of monochrome).
Oh! Did I mention that there is something soothing about toggling the light remotely and watching it go on and off?