Earlier in March 2019, Singtel announced its all-digital SIM-only no-contract mobile plan, GOMO – short for "Get Out More Often".

GOMO SIM-only no-contract plan offers 20GB data, 200 minutes talk time, 200 SMSes and free Caller ID (typically charged at S$5/month), all for just S$20/month.

If this is not enough, you can add an additional 10GB data, 100 minutes talk time and 100 SMSes for just S$10/month – all in the convenience of the GOMO mobile app.

I took the plunge and signed up for GOMO a week later, and this is my GOMO experience.

What does an all-digital plan mean?
An all-digital plan means that:
The plan is not available in Singtel stores so there's only one place where you can sign up – at GOMO.sg
There are no traditional customer support avenues such as a hotline to call or an electronic mailbox (email) for your queries but you do get a 24/7 live chat customer service.
There's only one way to pay your GOMO bills and that is via credit card.
So how do GOMO compare?
HardwareZone had done up a very good article comparing all the SIM-only + no-contract plans in Singapore right now.

GOMO was HardwareZone's mobile plan of choice, in not 1, not 2, but 3 categories – value, basic and mid-range plans, as they offered the most value at the least cost. Another positive is that GOMO is operating on Singtel's network.

M1 and StarHub also joined the party in the last 30 days or so and introduced similar competitive offerings of their own – M1's SIM-only and StarHub's giga. In the face of the new products, GOMO still fared quite well according to HardwareZone.

For details on the new M1 SIM-only and StarHub's giga plan, I recommend reading the HardwareZone article linked above or this article by MoneySmart on SingTel GOMO vs StarHub giga vs M1.

GOMO's Roaming Data Pump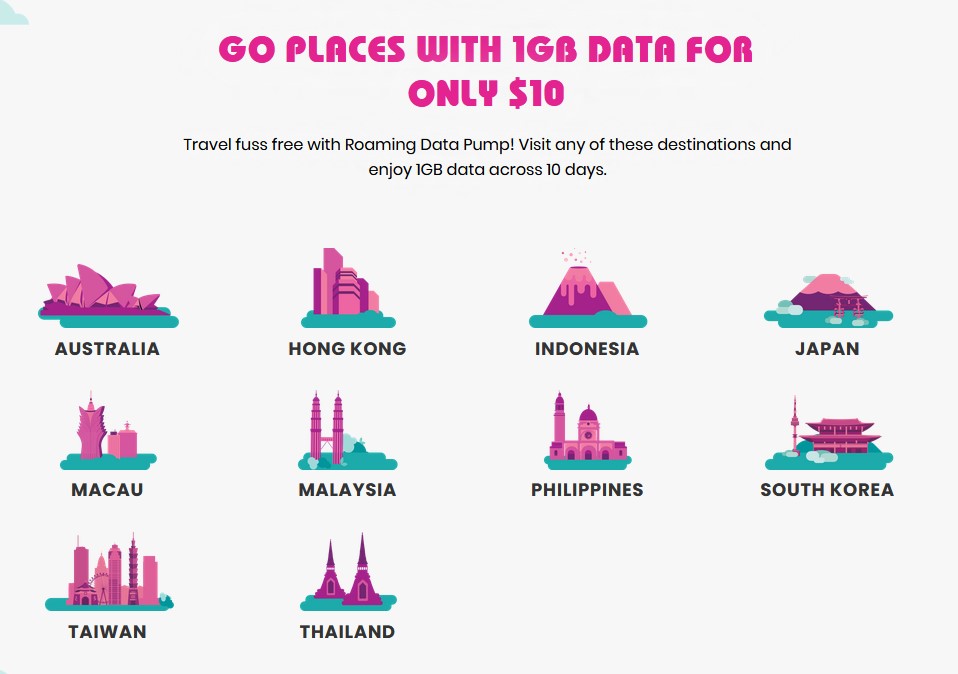 When I first signed up for GOMO, there wasn't any data roaming available. Data roaming is kinda like a de-facto standard nowadays. I am definitely surprised that a "SingTel" plan doesn't have any data roaming options.
Fast forward 3 months later, GOMO finally caught up and introduced their data roaming feature – Roaming Data Pump. Available at $10 for 1GB data, Roaming Data Pump can be used across 10 different destinations for up to 10 days. The 10 destinations are Australia, Hong Kong, Indonesia, Japan, Macau, Malaysia, Philippines, Taiwan, Thailand, and South Korea.
So for example you are visiting 3 countries – Malaysia, Thailand and Philippines, over a 10 days period. If you used 200MB in Malaysia, 400MB in Thailand and 400MB in the Philippines, you only need to pay $10. Unlike some telcos, GOMO doesn't charge you more for each destination you visit but instead charge a flat fee for any numbers of destinations you will be visiting.
Furthermore, if you are traveling with friends and/or family, you can share the data with them via a mobile hotspot!
Signing up for Roaming Data Pump is easy, just go to the GOMO app and viola!~ Remember to sign up at least a day in advance though! Also take note that you will need to set up your phone's network settings in order for Roaming Data Pump to work! Refer to this guide for more details.
PS: You can also consider StarHub's Happy Roam prepaid SIM card. Here's a link to an article on why I consider it to be the Best Singapore Roaming SIM Card for Malaysia (and some other SEA countries).

My GOMO experience
It's 2.5 months since I signed up with GOMO. My experience with GOMO had been pretty positive so far. I have absolutely nothing to complain about GOMO, not yet anyway since there are no deal-breakers (yet). Nothing is perfect. There are definitely hiccups during the initial days.
I will start with the positives. Take note that I highlighted only 1 positive. It isn't that there are little to no positives to talk about but I just felt that they were not significant enough. I rather focus on the hiccups since everything else works (almost) as expected.
The Positives:
An app to tell you exactly how much data, talk time and SMSes you are left with for the month. No more manual, cumbersome tracking via other means. The exact same app also tells you when the next billing cycle can be expected and is also the same place where you can sign up for Roaming Data Pump at the touch of a few buttons.
No hidden charges! $20 is all you have to pay each month. Caller ID is free of charge and not forced onto you like some other telcos and
The Negatives:
Billing cycle starts on the day you signed up; not when the service is activated.
Yes, you hear me right. You are charged $20 the moment you signed up. If you run into hiccups in the initial stages as I did, you are not gonna get any refund – partial or full. The billing cycle is every 30 days. And if you schedule your delivery like a couple of weeks later… good luck on paying for nothing.
Same day delivery option not available
I signed up for GOMO on 1st April and got my SIM card delivered on the 5th April. Not the fastest and probably so because my number was ported in, but I expect it to be faster, considering that the porting was from Singtel to Singtel. Remember, this is GOMO by Singtel. I don't think it is unreasonable of me to expect the porting to be completed earlier since this is internal.
The "same-day delivery" option is available only if you are registering for an all-new number and not porting in and that you sign up before 10.30am. Oh, it's only valid for Mon to Fri in case you forgot that Sat and Sun are non-business days.
No instructions on data activation
The GOMO SIM card reached me in the morning and telecommunication capabilities were deactivated on my existing SingTel SIM card about 15 minutes later. I could only receive and make calls but could not use data on my new GOMO SIM card.
After some research, it seems that the APN settings need to be updated. Instead of using the postpaid setting (e-ideas), somehow GOMO needs to use the pre-paid setting instead (hicard). You can find the settings below:

APN – e-ideas
MMSC – http://mms.singtel.com:10021/mmsc
MMS proxy – 165.21.42.84
MMS proxy port – 8080
APN type – default,supl,mms
Authentication type –None

APN – hicard
MMSC – http://mms.singtel.com:10021/mmsc
MMS proxy – 165.21.42.84
MMS proxy port – 8080
APN type: default,supl,mms
Authentication type – None
Unable to log into the GOMO app .
I was not able to log into the GOMO app on day 1. Tried both "OK, I've turned off the WIFI" and "Get OTP" but to no avail. Advised by the online chat support to wait out. Only managed to log in about a week later……
24/7 Live Chat Customer Service? As Good As None.
Ran into issues with data activation as mentioned in point #2 and the logging in issue in point #3 and wanted to reach out to customer service. Waited and waited for more than 48 hours (at different time intervals and the online chat doesn't allow you to hold. So you need to try again and again and can't wait it out like how most online chat support functions) before I actually managed to get a chat person online to attend to me. And the best thing is? I am once again advised to wait it out and there's nothing they can do on their end. Again, SingTel is famous for a lack of customer service and I think it got worse with GOMO.
Numbers starting with 1800 not supported
Only found out about this issue after signing up. Still an issue as of mid-Jun 2019. There are definitely work-arounds for this issue, such as calling the +65 number but this should never have been an issue and require work-arounds……
Conclusion?
Personally I find that the value that the $20 GOMO plan offers far outweigh the hiccups that I experienced.
I like the fact that there is no hidden charges (like $5.35 for Caller ID) and it will always be a $20 flat fee I see in my monthly credit card statement.
Will I recommend GOMO to you? Well it's a Yes and No.
Yes, I will definitely recommend GOMO if you have similar requirements to me. First and foremost I am not a power user and far from one. I know of a friend who maxes out 100GB a month and this is definitely not the kind of plan for him. From a data consumption perspective, I occasionally watch YouTube on the go and maybe tether to my laptop when I work from Cafes. And I don't really play mobile games. So 20GB is more than enough for me and I can use the data to my heart's content without the need to monitor my usage closely. Secondly, I always like to keep my fixed expenses low and keeping my mobile expenses to $20 a month is certainly in line with that. It's been a while since I last spent only $20 a month on mobile expenses.
So think about your data consumption each month and your other requirements, GOMO might or might not be the right plan for you but it is definitely worth considering! And I hope this article gave you some heads up to the potential hiccups you can expect if you signed up for GOMO.
What's your experience with GOMO? Did I leave out anything?
Let me know in the comment box below and I will add on to the article as and when there are milestone updates! Thanks for reading!
Some GOMO FAQs (correct as at 21 Jun 2019):
How do I activate data on my GOMO SIM card?
Update the APN settings. Instead of using the postpaid setting (e-ideas), use the pre-paid setting instead (hicard). You can find the settings below:

APN – e-ideas
MMSC – http://mms.singtel.com:10021/mmsc
MMS proxy – 165.21.42.84
MMS proxy port – 8080
APN type – default,supl,mms
Authentication type –None

APN – hicard
MMSC – http://mms.singtel.com:10021/mmsc
MMS proxy – 165.21.42.84
MMS proxy port – 8080
APN type: default,supl,mms
Authentication type – None
Does GOMO support numbers starting with 1800?
Not at the moment. Support for numbers starting with 1800 might be added in the future.

[Update as of 16 Jan 2020] GOMO is able to support 1800 numbers now! Great news for new and existing GOMO users!
Is GOMO a prepaid or postpaid mobile phone plan?
GOMO is a postpaid mobile phone plan. There is no need to convert to a postpaid service if you are looking to port to another Telco, unlike prepaid services.
Can subscribers make international call or send international SMS with GOMO?
Not at the moment. The ability to make international call or send international SMS might be added in the future.
Is iMessage and Facetime supported by GOMO?
Yes, both iMessage and Facetime are supported by GOMO.
Is there VOLTE with GOMO?
Not at the moment. VOLTE support might be added in the future.