Searching for the best Singapore prepaid roaming sim card for Malaysia
Just over the weekends, I had the chance to ride 240km (each way) up north to Malacca from Singapore with my bike friends on my 2016 Suzuki Burgman 400 ABS.
Prior to the actual trip, there were of course planning that needs to be done.
Like any modern connected netizen, one key concern was, "how do I remain connected in Malaysia?"
Often times, I will just grab a local prepaid traveller / tourist sim card once I touch down at the airport but not this time around.
A friend shared with me how a Singapore prepaid roaming sim card might be better……
As always I did my own research regardless and I present to you – the best Singapore prepaid roaming sim card for Malaysia!
Too many cooks spoil the soup they say……
I did my due dilligence and read up on the local prepaid sim cards in Malaysia and find it confusing as to which of the sim cards provides the best value for me.
One thing to note about the prepaid sim card space in Malaysia – fine prints…… too many fine prints.
For example, Xpax (not sure what happened to Xpax but their webiste is currently "coming soon") provides up to 10GB of free high speed internet per month at only RM10! Awesome ain't it? No. It's only for Facebook.
How about that free 8GB high speed internet from Hotlink? No. The 4G is only available on Saturdays and Sundays.
Alright, then how about the free 8GB high speed internet from Digi then? Only if you stream alot – youtube, spotify and the likes.
Just too many *beep beep* fine prints!
Considering that I will only be there for 2 days and a night, do I really need to go through the hassle?
My answer is a clear NO!
Note: You can read more about the Malaysia prepaid sim card comparisons via the 2 links below:
– Prepaid Telco Comparison – Lowyat
– Best Mobile Prepaid Malaysia – CompareHero
So which provider has the best Singapore prepaid roaming sim card for me?
I began with Starhub's Happy Roam – highly recommended by my biker friends who frequents Malaysia.
The read up on Starhub's Happy Roam eventually led me to do up a comparison between SingTel, M1 and Starhub.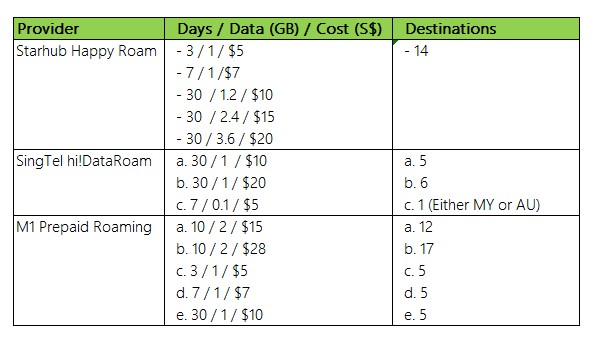 So how do you decipher the table?
For Starhub Happy Roam it is straight forward. 14 destinations covered regardless of your activated data plan – data plan here refers to the "days / data / cost" .
For M1 prepaid roaming, depending on the data plan you signed up for, you will be covered for anywhere between 5 – 17 destinations.
The biggest difference between Starhub and M1 here is coverage.
I am skipping SingTel hi!DataRoam simply because they dont provide any value for me.
My requirements are simple – 2-3 days trip, 1GB minimum and needs to be cheap.
Based on anticipated trips, my destinations should be mostly Malaysia and Hong Kong.
These requirements are easily met by both Starhub and M1 with their 3 days, 1GB, $5 data plans.
Starhub Happy Roam
In the end I went with Starhub.
(Copyright to the above image belongs to Starhub, not me!)
Why Starhub Happy Roam?
Well, in Malaysia, Starhub partners with all the operators. Whereas M1 only partners with Celcom.
In Hong Kong, Starhub partners with Three (3) [3HK] whereas M1 partners with SmarTone.
I am not sure which is better in Hong Kong, but for Malaysia, Starhub wins!
And before I forgot, Starhub Happy Prepaid sim cards are available in 3 different denomination – $8, $15 and $50.
You can purchase at any of the Starhub shops or through their partners.
Note: I was able to get 4G internet when I was in Malaysia most of the time – my only touch points were Malacca, a few RnR stops and the custom checkpoints.
Activating your roaming data plan is a breeze
Install and run your apps and make sure your sim card is already activated.
"Activate" the data plan you desired
And last but not least, remember to on your roaming serviec in the "roaming" tab.
Reminder: if you are using a dual sim phone like mine, please direct your data to the slot that Starhub Happy Prepaid sits in. You don't want unwanted surprises, do you?
Final thoughts
As your requirements and needs will most likely differ from mine, you should do your due diligence and research before you sign up with any telco (local or overseas).
And if you are going to be overseas for a longer period – 5-14 days kind of long, consider the local tourist / traveller sim cards.
More often than not, they provide far better value compared to data roaming with your Singapore prepaid sim cards.
Again I have to emphasize, I only use Singapore prepaid roaming sim cards when I am on a short trip as find it a hassle to hunt for local sim cards when I touch down.
Otherwise it is local traveller / tourist sim cards ANYTIME for me!
Hope this post helps (somehow)!