About a month back, my 18 months old Dyson V10 stopped working……
After a whole night of charging, there was no reaction, nothing at all when you pressed on the trigger.
Except for maybe 20 flashes of light on the Dyson V10 battery unit as you can see from the video above.
Dibea/Xiaomi > Dyson For Me When It Comes To Vacuum Cleaners
I have always been one who pays for durability and functionality, not so much for aesthetics and definitely not for innovation.
The Dyson brand had always come across to me as innovation leaders, futuristic forward designs – and I guessed – this is the reason Dyson charges a premium for their products.

I bought Dyson V10 not because I like it or I want it but simply because it was on the wife's wish list.
Coupled with an unbeatable deal – it was a hundred dollars off and came with a free Dyson V10 Dok, it was hard for me to say no to the wife (or to the deal).
Calling The Dyson Customer Service Hotline
I did some research on the internet and it seems like there was nothing I can do on my end except to call the Dyson customer service helpline.
The customer service officer (CSO) on the other end was really professional and friendly and the call was over before I know it:
CSO asked me what happened:
a. Dyson V10 not working
b. Dyson V10 not holding charge
c. The battery unit on the Dyson V10 flashed 20 times

CSO will arrange for a technician to come on-site to take a look at the reported fault

CSO checked in for my availability and preferred timings

CSO to call me back in the next few days with the confirmation.
The CSO really did call me back a few days later – much to my relief as many businesses in Singapore really do not call their customers back.
I was told that the battery was out of stock and will only be in stock in about 2 weeks time.
Once the battery was back in stock, the CSO called me again.
Not sure if it was because of the COVID-19 situation, I was recommended another (but safer) option and that is for Dyson to mail out the battery to me.
I took the option and it was pretty simple and straightforward.
What's In the Mail?
So the Dyson V10 replacement battery reached me in about 2 days' time, through Speedpost, after the last call from the Dyson CSO.
Inside the package was just 3 items – the Dyson V10 battery itself, an instruction manual and some screws.
Imagine my surprise and delight, when I discovered that Dyson actually sent me a larger capacity battery – 2600mAh. The old battery was 2300mAh.
Installing The Dyson V10 Battery Pack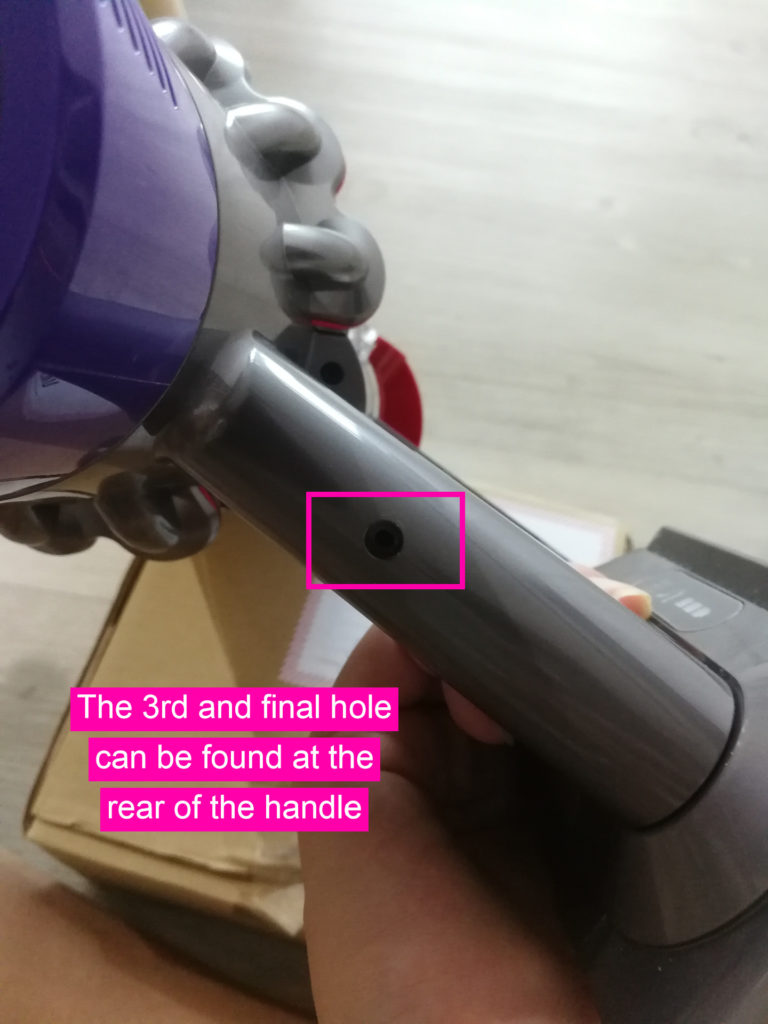 Replacing the battery was rather straight forward. Just 3 screws and you are done. Refer to the images above to locate the 3 screws. Or watch the video here if you prefer moving pictures.
Closing Thoughts On The Dyson Experience
The Good:
2-year warranty
Great and smooth customer service experience
The larger battery capacity is really a nice surprise
The Bad:
Usually when I have a product fail on me within the warranty period – especially a brand that I don't have much experience with – it really doesn't instill much confidence in me.
The customer service experience, in many a situation like this, is the key to retain customers – overturning a potentially negative experience into a positive one.
So Dyson really scored alot of recovery points with their excellent customer service program this time round.
Will I continue to buy other Dyson products? Maybe?
I think that really depends on how long this Dyson V10 replacement battery will last.
We shall see.