Recently, ants had been popping up in my home from seemingly nowhere – and they are getting on my nerves. Did some research on how to get rid of the irritating ants and presto! Read on to find the best ant killers (ant gel/ant bait/ant trap / whatever-floats-your-boat) you can get in Singapore!
The Combat Ant Killer Mini
I started out with the Combat Ant mini, placing a number of these ant traps around the house.
Just refreshed with a new batch of them after the discovery of the new ant infestations.
Within 2-3 days, a lot of ants (to be specific, dead ants) can be seen around the trap and along their usual trail.
However, I am not 100% sure if it was the Combat Ant Killer Mini that was working its magic or it was the insecticide I was spraying outside my flat earlier.
I assumed it is more of the effect of the insecticide than the Combat Ant Killer as there were more dead ants along the trail rather than around the trap, but this is just my assumption.
The 3 Best Ant Killers You Can Get In Singapore
A quick search around the world wide web pointed me to some common recommedations. These recommendations are not only raved about on various websites but over at HardwareZone's EDMW forum too ([GPGT] ANTS problem? Sic most effective ant bait i ever used…)!
Below is a list of the most highly recommended ant killers (not in any particular order) you can get your hands on in Singapore.
You can thank me later 🙂
Enjoy the list in the meantime!
1. Terro Ant Killer & Terro Liquid Ant Baits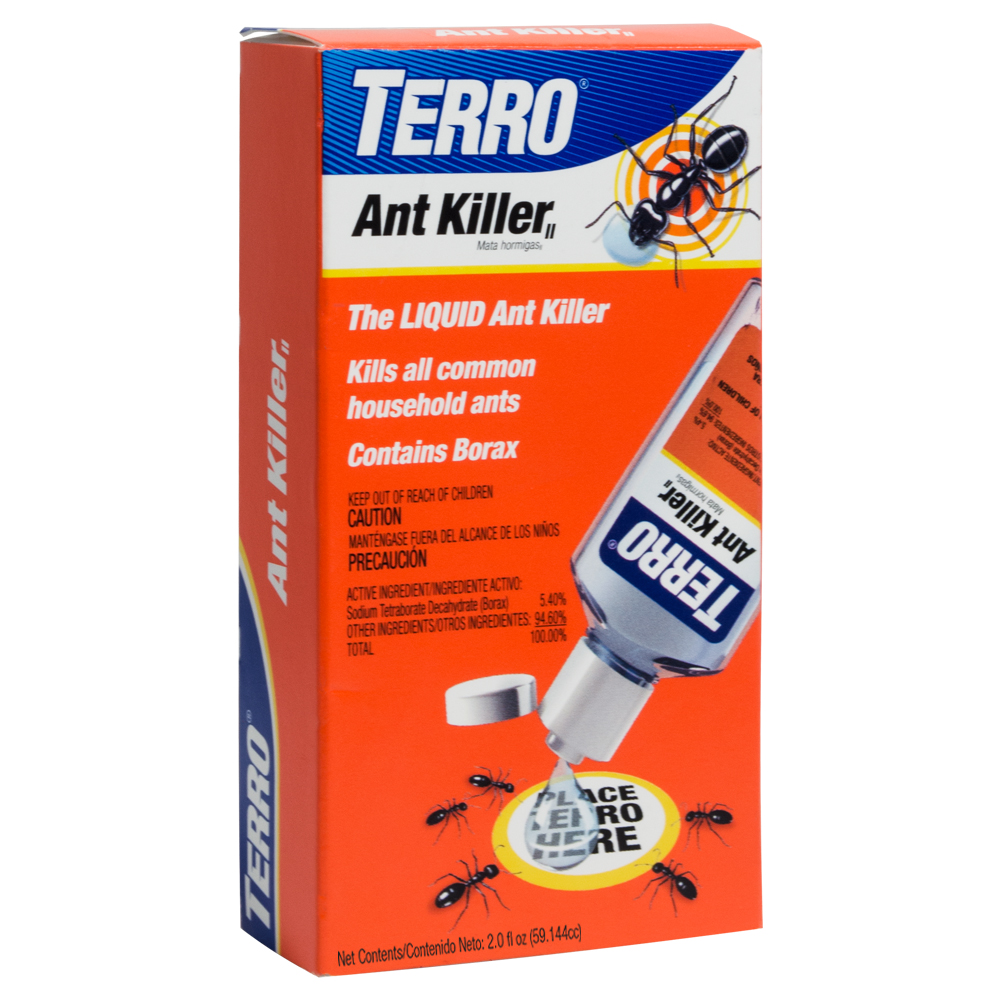 First on the list is the Terro Ant Killer and Terro Liquid Ant Baits, which lists borax as its active ingredient.
To quote Terro:
When ants consume the borax bait, it interferes with their digestive system and gradually kills them over 24-48 hours. This slow kill allows time for the worker ants to consume the bait and head back to the nest to share with the rest of the colony.

From Terro's official website
I ordered some for myself and was quite please with the effectiveness of the product.
Read more about my experience with Terro ant killers / ant baits below.
2. Golden Hammer Ant Gel
Second up on the list is Golden Hammer Ant Gel.
Golden Hammer is made-in-Singapore brand. According to its packaging, the ant gel contain only common food additives permitted for use by U.S. Food and Drug Administration (FDA) and is said to be non-toxic and environmetally safe.
The active ingredient in Golden Hammer Ant Gel is Meylon, aka baking soda, a common ingredient found in many DIY ant killer / traps.
3. Nisus Terro-PCO Liquid Ant Bait
And finally, we have Nisus Terro-PCO Liquid Ant Bait.
I am not exactly sure if there's any connection between Nisus Terro-PCO and Terro.
I find both products to be pretty similar.
For example, both have a "Terro" in the brand/product name and are made in the USA
Coincidentally, both also have exactly 5.4% of borax as their active ingredient.
With this, my assumption is also that their performance should be somewhat similar to one another.
A 30ml (1oz) bottle of Terro Liquid Ant Killer goes for between $10.90 to $13.00 on Shopee.
Whereas a 30ml bottle of Nisus Terro-PCO Liquid Ant Bait is at least 30% cheaper at $7.80.
The Nisus Terro-PCO can be easily pick up off the shelf at NTUC (some NTUC branches do carry physical stocks; not sure if this applies to all NTUC branches).
So if you have time or happen to pass by NTUC, might make more dollar-sense to buy this instead.
4. Antbreaker Liquid Ant Bait
Update: 21 Feb 2021
Full disclosure – Antbreaker reached out to me with samples of their liquid ant killer for my honest review.
All thoughts and opinions are my own and are not, in any way, influenced by Antbreaker.
I am Sam, and I value my honesty more than gold.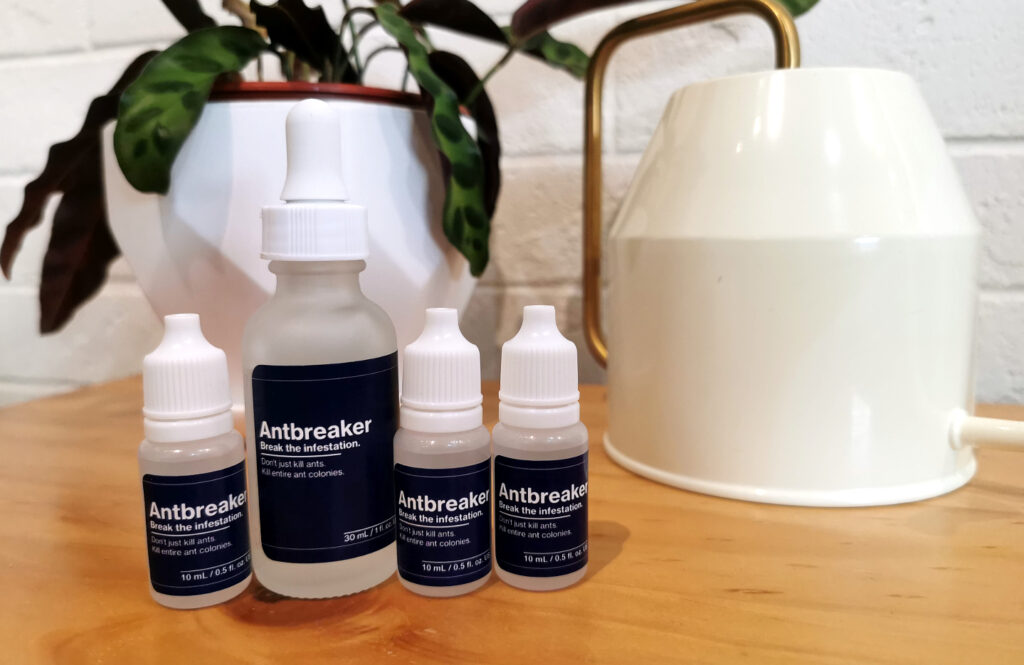 Now now, finally a made-in-Singapore borax-based ant bait!
From Antbreaker's website:
Antbreaker is developed based on current entomological research on ant feeding habits, diet, and colony behaviour. Antbreaker is made in small batches from environmentally-friendly natural ingredients.
Similar to the other top performers in this list, Antbreaker also list borax as the active ingredient.
Based on my observation and research across different forums on the internet, as well as my own experience, ant killers that are borax-based tend to be more effective , compared to ant killers that are not.
It should be safe to assume that Antbreaker will yield a performance level similar to that of other borax-based ant killers.
A quick glance at Antbreaker's review page and instagram account suggest it just might be that way – loads of raving positive reviews from satisfied users!
So You Think This Is It? No It Isn't.
Getting the right ant killer / bait is just one part of the equation solved.
There are other parts to the pest equation:
#1 – What type of ants are you dealing with?
Do you know that there are more than 100 species of ants in Singapore?
The ones you will most commonly see around your home will be either the Carpenter Ants, Ghost Ants, Pharaoh Ants, and Crazy Ants.
Just note that not all ants will take to the ant killers, but if you are fighting it out with either of the 4 above, you should be fine.
#2 – How are you dealing with the ants?
I am quite sure most of us, when face to face with an irritating pest, will either go head-on with it (and by that I mean kill it on the spot) or we will just RUN!
Running away from the antsobviously wont help you resolve the situation at home.
How about killing them?
Surprise!!! It won't help the situation either.
Huh??? I get the best ant killers already still cannot get rid of the ant problem???
My #1 advice for the ant killers to work – live with the ants.
Yes, I meant it, you will need to live with them.
Maybe for a few days if you are lucky or a few weeks if your luck is down.
Why so?
The sheer number of the ant population meant that you will never ever be able to send the ants into extinction even if you spend the rest of your life killing them – each and every second.
So to rid yourself of the ants, you will need to let the ants take the bait back to its nest and share it with the Queen Ant, its friends, and family.
This takes time but the time taken is well worth it.
Do not give in to your insecticide temptation!
During the first few days, I was really tempted to spray insecticide at them or to crush them with my palm – but I didn't.
I was also tempted to clear away the dead ant bodies found along their trail but I chose not to.
On the 3rd/4th day, my order of the Terro Ant Killer / Terro Liquid Ant Baits arrived and I reinforced my war against the ants with it.
You can probably see from the video above that the ants are really interested in the Terro Ant Killer and were really quick in checking it out.
I left the Terro Ant Killer overnight and was rewarded with more dead ants around the immediate vicinity of the ant bait the next day.
And before I forgot, do also take note of where the ants are coming from, or leaving your home from.
In my case, they were coming through the crevices in the wall.
As an additional measure, I sealed up the holes after the whole affair.
Quite the lucky one, I was able to get rid of the ant issue in about a week.
Conclusion
I understand the frustrations of living with pests, even more so when they start to become an irritation and a problem.
And this is the reason why I decided to put up this blog post.
Hopefully this can help you, who's reading the post right now, to get rid of the pests once and for all.
As I learned when I was young – prevention is always better than cure.
With good habits – not leaving your food lying around; taking your rubbish out and dumping them every night, etc, the ants should not come back.
If the above doesn't work for you, maybe it is time to reach out to a pest control expert for assistance!